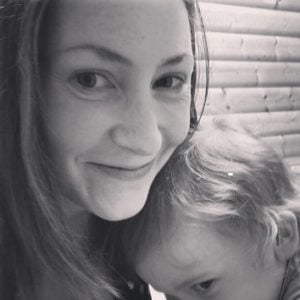 Hello, my name is Alice. I am a birth doula, living in Cambridgeshire PE28, and I am a recognised doula with Doula UK. I am a wife, and a mummy of two small monkeys. I used to be a nanny, before moving to California with my very persuasive hubby, (I'm a home bird, he's an adventurer!), and there we had our two babies. It was there I learnt all about doulas, and had the amazing support of one for both our pregnancies and births. When we moved back to the UK I knew it was something I wanted to do, and training among the UK Doula network since has been an awesome start to my journey into the birth world.
I am a self-professed birth junkie and it is a passion of mine to support and nurture parents to be, (or to be again!), so that they feel informed and empowered when it comes to welcoming their baby into the world.  We all know birth is unpredictable, but by being as prepared as you can be, you are armed to make your birth experience an awesome one, in whichever form it may take. I feel honoured to be a doula. Holding that space and being a part of such an incredible time in a family's lives is truly humbling.
Testimonials:
"If you are wondering if a doula is the right choice for you, let me really encourage you to go for it. I was unsure of doulas at first as they often seemed to be 'hippy dippy' and I didn't want to 'breathe through the pain', but I cannot imagine my birth experience without Alice. From our first 'get to know you' and preparation meetings through to the delivery itself and the follow-up, Alice put me, my needs, and my preferences first. She provided non-judgemental support and a hand to squeeze during contractions and stitches. She reassured my husband that, in spite of the ridiculous amounts of bodily fluids, things were normal and we were doing well. She managed the tricky balance of fading into the background when we needed to be on our own and being very present when we asked."
Elizabeth, July 2019
"Alice is an exceptional and gifted doula. I feel blessed that she supported me through pregnancy, birth and in the weeks afterwards. I will never be able to thank Alice enough.
Throughout my birth experience Alice calmed me, checked things with me, protected my wishes and made sure the midwives understood what I wanted. Alice is a gentle and loving soul who can be fiercely protective when necessary. A perfect combination.
Needless to say, I love her from the bottom of my heart"
Ani, January 2019
"Alice is a warm, charming and very empathetic person and we loved to have her as our doula. Her great energy immediately put smiles on our faces and we felt more like having a friend or a family member with us. Having such a caring and calming person by our side, helped us to stay calm ourselves in the most stressful situations. She respected our choices without judgement and supported us, so we were listened to by the medical staff. We think she has a real talent to be a doula and we would definitely recommend her"
Kasia, March 2018
"Alice was kind, caring and friendly. She seemed really knowledgeable and I really trusted her. Having such a calming and caring person there, (other than my husband), really made my birth a more pleasant experience"
Charlotte, August 2017
Contact me by phone on 07792 383367
E-mail alice@instinctive-birth.co.uk
http://www.instinctive-birth.co.uk/