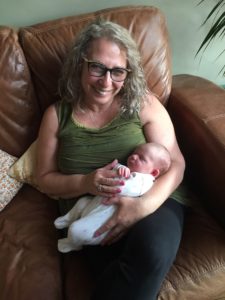 Thank you for stopping by to check me out!  I am an experienced birth doula working with women and their families across Cambridgeshire, Huntingdon and Peterborough.
My own children are now adults and I am a very proud grandmother to five gorgeous children.
As well as being a doula, I teach hypnobirthing and I'm a trained and experienced breast feeding peer supporter. I regularly volunteer on the AIMS helpline providing evidence based information to women who are seeking support with their decision making.  I co-facilitate a local Positive Birth Movement Group and represent service users at the Peterborough and Huntingdon MVP. As if that wasn't enough, I'm also an qualified homeopath which can be a useful additional tool when it comes to pregnancy, birth and beyond.
I strongly believe that women need to feel safe, secure, and supported through pregnancy and birth.  My aim as a doula is to empower you to make informed decisions and choices about your labour and the birth of your baby.
I am able to provide you with an individualised care package and support before, during and after birth, enabling you to maintain optimum health and helping you to prepare physically and emotionally for your new arrival.
I can tailor my services to your needs:
Support during pregnancy
Homeopathy for pregnancy and childbirth
Birth doula
I firmly believe that when a woman feels supported and informed as well as feeling physically and emotionally safe she is more likely to achieve a positive birth experience. My aim is to support and empower women to trust in their own intuition and judgement and to have the faith and confidence to make their own choices.
I don't give medical advice or make decisions for you, instead I provide you with continuity of care and ensure that you have all the information you need in order to make informed decisions during your pregnancy, labour and early parenting.
I have experience of working in a variety of settings (home, birth pool, MLBU, labour ward, surgical theatre) and I have supported many families as they navigate their own individual birth journey. As well as learning from each and every family that I work with, I am continuously updating my skills and knowledge through networking with other birth workers, reading relevant books and studies and attending CPD study days.
For more information about the range of services offered, testimonials and more, check out my website.
Tel: 07940585956
E-mail verina.henchy@gmail.com
Testimonial
After part- training to be a midwife some years ago, I knew that if I ever had any more children I was definitely going to have a Doula. There is a lot of antenatal care and attention in these times that NHS midwives are struggling to deliver, and so I felt it was appropriate to bridge that massive gap with a woman whose purpose would be to reassure, signpost and nurture me through my pregnancy, labour and postnatal period. We also attended Verina's Hypnobirthing Course in the months running up to our baby's birth and as others have commented in their reviews: I found this to now be an invaluable technique to help me through times of pressure and stress even after birth. During our meetings Verina demonstrated some babywearing techniques with some slings, and introduced us to the Spinning Babies techniques for helping baby get into the optimal position for birthing and for comfort. Massage techniques and breastfeeding guidance was also second-to-none. As if Verina's bag of skills wasn't already big enough – she is also a Homeopath and as I approached my 43rd week of blissful pregnancy she put together some remedies to help me encourage cervical ripening.
My birth was an amazing Homebirth in a birthing pool provided by Verina, with my partner and my 6-year old daughter present whilst Verina supported ALL of us. Verina comes with a handy playlist of empowering tracks of female artists and after me requesting it of her – thrashed out some soothing beats on her drum. As a trained Doula myself, I aspire to be as helpful and loving as Verina is. When we all needed different things (my daughter woke with a fever on the day) Verina was the antidote for all three of us. My partner values the pointers that Verina gave him in my labour in order for him to feel like he was helping. We're all just so happy to have found the exact thing that we were looking for, in Verina. If you're new to the Doula service and are trying to weigh-up whether the price tag of a Doula/Hypnobirthing practitioner is going to be worth it – it is! We pay out so much for pushchairs and cribs, clothes and accessories… but actually all you really need is a Doula and a sling!
Julie Ann Crowley